Hello, crafty friends! Now that fall is officially here, it's time to share all things spooky! And today I have a spooky sweet fabric project to share that I made for the Tim Holtz Sizzix Halloween release… a small pillow tuck made with Tim Holtz Eclectic Elements fabric and felt and the new Pumpkin Patch Colorize die set.
Now Tim has released lots of pumpkin die sets over the years, but this new Colorize set is a true favorite. In this set, you receive two different jack o'lantern images and two different bats, each with multiple layers that you die cut and stack for a real 3D appeal. I love that the dies come with base shapes, and then pieces that you layer to build up the design. You can see that I used yellow felt for the base here, and then stacked three shades of orange felt and two shades of green felt for the stems. And a little tip, if you don't have enough colors of felt (or even paper, for that matter), you can add Distress ink to the felt to change the shade. For this project, I only had two colors of orange felt, so I inked up the felt with Rusty Hinge Distress ink to make a third, darker shade.
The felt I used is from Benzie Designs, and it really does die cut beautifully. Therm O Web Sprayn'Bond Fusible Adhesive was really helpful for adhering all these pieces together, without the need to sew. I fused the pumpkin and bats to a backing of Abandoned Eclectic Elements fabric and used a row of pom pom trim to create a grassy border. A bit of Distress-dyed seam binding was added in a bow, and vintage rick-rack trim was sewn around the border.
I love this time of year! Happy Fall y'all!
---
The supplies I've used are linked and/or listed below: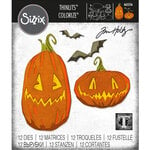 Benzie Felt
Eclectic Elements Abandoned Fabric Collection
Trim