Happy Friday, crafty friends! As I mentioned in a previous post, from now until December I am on a mission to make at least one holiday card a week during a crafty Zoom session with my friend, Kathie. It's one way to stay connected to friends and family during these quarantine days, and a great way to build up my stash of cards for the year at the same time. I am calling this my 2021 Christmas Card Project, and each week I hope to share my progress with you.
Can you believe I am now on week 20? It may seem, and does feel, like I've been at this project for forever, but it still catches me off-guard when a month mile marker comes around. Week 20 marks five months, and I am still going strong. This past week, I've actually been off traipsing around on two back-to-back quick trips, so there is only one card to share… another made with Doodlebug's adorable Night Before Christmas collection.
This card reminds me of the Christmas special, Rudolph, with the Island of Misfit Toys. My daughter was obsessed with the little elephant doll from that show, so I definitely smile to see this one. I used papers from the 6×6 paper pad and several layers of die cut frames to create my background. The joy letters are from PhotoPlay Paper. And then a few die cut ephemera pieces to finish off the scene.
Hope you all are doing well and that things are starting to return to a more normal routine at your house. I was able to visit my son up in Richmond this past week, and have just returned from a quick visit to my dear friend Kathie's house at the beach. We got to actually craft in person this time, instead of via Zoom. And I'll share those cards with you all soon! Happy weekend, friends!
---
The supplies I've used are linked and/or listed below: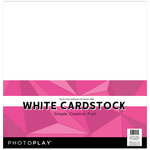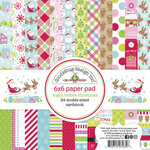 My Creative Time Dies: Stitched Rectangles, Bunch of Fun Circles