Happy Friday, crafty friends! As I mentioned in a previous post, from now until December I am on a mission to make at least one holiday card a week during a crafty Zoom session with my friend, Kathie. It's one way to stay connected to friends and family during these quarantine days, and a great way to build up my stash of cards for the year at the same time. I am calling this my 2021 Christmas Card Project, and each week I hope to share my progress with you.
I've fallen behind a bit on my Christmas project these past couple of weeks. I've been having some serious computer issues with my old desktop computer, which I still use for my photo editing and storage. The thing is older than the hills, and has currently taken to simply shutting itself off and refusing to reboot. But just when I think it's gone for good, it surprises me with a sudden return and I manage to limp along again. But on a happier note, my parents have arrived for a nice long visit, and we have been busy catching up and running around after not being able to be together since Christmas 2019. So I apologize for the absence, and hope that I am back for awhile.
A couple of weeks ago, I went to visit my dear friend, Kathie, and we were able to craft together in person for a change. I made a handful of cards with my favorite Simple Stories Simple Vintage North Pole collection, and today I have two of them to share for week 21 of the Christmas Card Project.
The first card features a sweet Santa image from the cut-apart journaling card sheet in the 6×8 pad. I layered the Santa onto a stitched rectangle cut from white cardstock, and added a bit of candy-caned striped paper at the top and bottom to fill in the rectangular space. The green patterned paper is edged with white scalloped borders and placed down the center of the card. The tab at the top is a portion of a die cut ephemera piece, and it was wrapped in a bit of twine. The round sentiment is from the Bits & Pieces die cut pack, too.
I'm happy with how the second card turned out because I love that Santa image, but it was the full 6×8 size, which made it challenging to use. I used an old Sizzix stacked rectangle die set to cut out just the face portion of the image, and added it to a mat of white cardstock. I am really challenging myself to use up every scrap, and managed to use some very thin strips of paper as a band across the center of the card and a small tab at the top right corner. Twine was tied around the left side of the card, and I finished off with a die cut ephemera piece for the sentiment.
Isn't it crazy that we are almost halfway through the year already? Soon it will be Christmas in July, and I will be right on trend with this Christmas card making project of mine! 😉
---
The supplies that I've used are linked and/or listed below: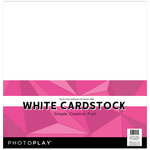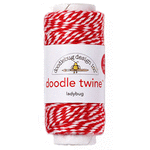 Simple Stories Simple Vintage North Pole Collection: 6×8 Paper Pad, Bits & Pieces
Sizzix Rectangles Framelits Die Set