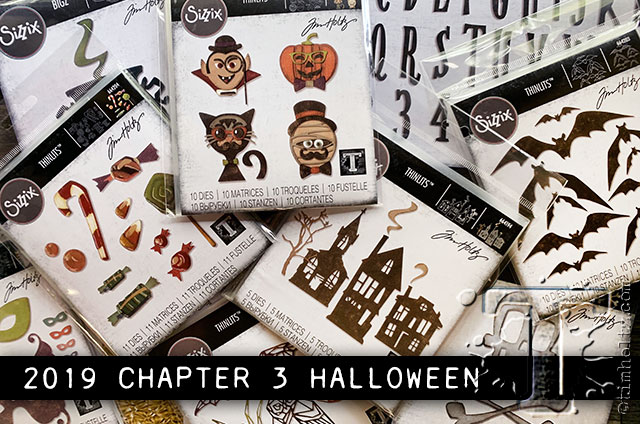 Hello crafty friends! I'm back today with another project that I created for the Tim Holtz Sizzix Chapter 3 release. As you may remember, I was given a special secret assignment for this release to create some fabric projects using the new dies. And today I'm here to share the last of my Halloween inspired fabric creations…. this time, a spooky witch's spell pillow made with the new Cauldron Bigz die and the fabulous Handmade alphabet font.

Of course Bigz dies are perfect for using with thicker materials like the wool felt and fabrics I used here, and one of my favorite things about using fabric with die cuts is the ability you have to manipulate the pieces. Because fabric has give, I was able to expand the slit at the top of the cauldron and back the opening with a contrasting fabric, as well as tuck the wisp of smoke into the inside. Love how you can now see the contents of the cauldron just bubbling away.

I used Distress paint to add details to the scene, like the shadow below the cauldron, the bubbles rising above, and all the white pieces so that they stand out. And of course a witch's brew needs a good spider, which is hanging to the side of the cauldron by a thread. I used a bit of alcohol ink on the spider to really make it shine.

I added a few hand-stitched accents to the cauldron handles, and edged the pillow with some favorite pom-pom trim. If you'd like any additional tips for using fabric with dies, check out some of my previous posts (These Old Bones) and (Skull & Crossbones Dolly).
Thanks so much for stopping by! Hope you all have a wonderful weekend ahead. I'm planning to head to Richmond to visit my boy. We've got belated birthday celebrating to do, and this ol' mamma can't wait!
P.S.- I've added a few Halloween spooks to my AudOnes Prims Shop. Come take a peek!
---
The supplies I've used are linked and/or listed below:
Floss: DMC
Cotton Print Fabric, Wool Felt, Pom Pom Trim