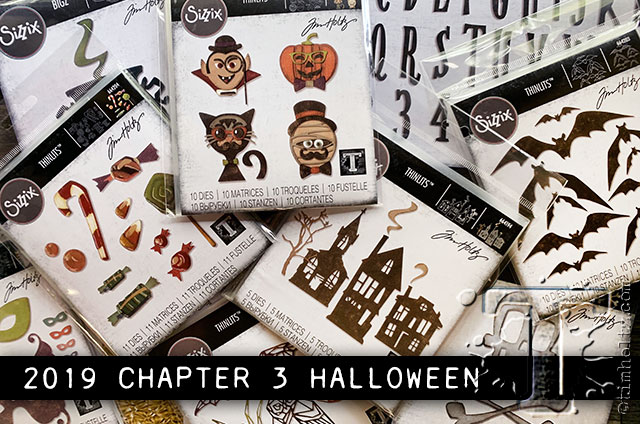 Happy Wednesday, crafty friends! Did you all have a chance to check out Tim's fabulous new Sizzix Chapter 3 release on Facebook Live last week? Wasn't it amazing? Over two hours of festive and frightening new products to gawk over, and tons and tons of fantastic projects and ideas to see. If you missed it, never fear… you can watch the replay (part 1 Halloween) below.
When I shared about the new holiday release on my last post, I hinted at a secret project assignment that Tim asked me to work on for the reveal, and I know some of you have already guessed what that was. Fabric! Yes, my twist was to apply the new dies to some of my AudOnes Prims. And boy, was I excited to give that a try! A huge thank you to Tim, Mario, and Paula for this super fun opportunity!

Those of you who have followed along on my AudOnes Prims venture know how much I love to create silly primitive rag dollies, so of course that was the very first project that I tackled. This cute and creepy little girl doll features some of my favorite things…. buttons and bows, Crossroads Denim and Tim Holtz Eclectic Elements fabric, and a big spooky Halloween skull emblem right on the front that was made with the new Skull & Crossbones Bigz Die.

Because the Skull & Crossbones is a Bigz die, you can easily die cut all sorts of thicker materials with it, making it perfect to use with fabric projects like this. I used wool for both the skull and bones here, doubling up the layers for the bones in her hair. And just as you can use Distress Ink and Paint to add detail to paper projects, you can apply the same techniques to add depth, age, and dimension to fabric pieces, too.
Here's how I do it.

Begin by die cutting the bones from heavy wool or wool felt. You can use thinner materials, but something thicker really works best. I'll share tips for die cutting thin cotton fabric in an upcoming post.

Dab Distress Inks or Oxides onto a non-stick craft mat, and then spray the inks heavily with water using a Distress Sprayer. For this project, I used Pumice Stone and Hickory Smoke Distress Ink.
*Note: use this technique only on fabric projects that you don't plan on washing… as just like with primitive style tea or coffee staining, Distress inks will wash out in water.
Press the fabric die cuts into the ink mixture, twisting and swiping them through the inks to add color. Not dark enough? Let the fabric die and repeat the process again. Once you have the color where you like it, make sure to let the pieces dry completely.

When it comes to applying applique die cuts to fabric, I take a few shortcuts. The standard way would be to add an iron-on fusible interfacing to the back, or to attach the pieces with lots of pins. But I am hopeless with an iron, and often end up with pieces slipping or shifting with pins. So my trick is to stick my appliques down with Therm O Web Fabric Fuse adhesive. That way I can get the pieces exactly where I want them, and I know they'll stay in place. And once it's dry, you can go back and add stitching over the top if you wish. Love it.

For bigger die cuts, like the skull, I do like to go around the edges with a bit of machine stitching, but with the glue, that step isn't necessary. For thinner dies, like the crossbones, I stacked two wool pieces together and simply stitched down the center. The double thickness helps add structure to loose flappy pieces, like the hair bows. And finally, you can add further details to the fabric dies, like using Distress paint to highlight the negative opening. Or adding buttons for eyes. Or tying multiple shapes together with a bit of ribbon or twine.
Thanks so much for stopping by! I've got lots more holiday projects to share, so hope to see you all soon!
---
The supplies I've used are linked and/or listed below:
Other: Eclectic Elements Fabric, Crossroads Denim by Indygo Junction, Wool, Stampin'Up Ribbon, Buttons
Save